Fort Worth District
Lakes and Recreation Menu
Equestrian Trails at Waco Lake
Location
Lacy Point Access is located on the west shore of the lake. From IH 35 take Hwy 6 north for about 7 miles to Speegleville Rd., exit right, go 1 mile to stop sign, go right to park entrance.
Lacy Point Hike/Bike Trail
Lacy Point provides the public with approximately 20 miles of trails for hiking, horseback riding and bicycling. These trails are open not only to humans, but leashed animals as well. The Waco Bike Club and Texas Equestrian Trail Riders Association also help maintain this facility. For an interpretation of the trail, click here . In 2010, Lacy Point Trail was recognized in the National Recreations Trail system.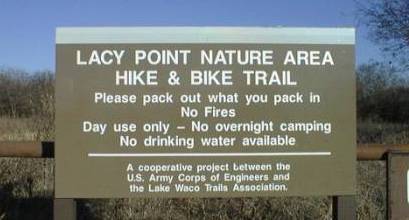 Entrance to the Lacy Point Hiking/Biking Trail
Primitive restroom facilities are located at the trail head, next to the boat ramp parking lot. The roads and trails are not suitable for the narrow "road bike" type tires. Trail head parking is permitted on the grass by the pipe fence.
If you would like to participate in maintaining the trails by way of weekend work projects, trail surveillance, or in any other way contact the Waco Lake Volunteer Coordinator, Matthew Hackler or call 254-389-8690.