Fort Worth District
Lakes and Recreation Menu
History of Lewisville Lake
Before the lake:
Denton County was a rural farming community in the early 1900's. What wasn't in farmland was either Crosstimbers post oak forests or prairies.
Lake Dallas:
The City of Dallas constructed the original lake, Lake Dallas, in the 1920's for water supply. The Garza Dam on the Elm Fork of the Trinity River was completed in 1927 and water storage began in 1928, creating the lake. The orignial dam was 10,890 feet long with a 567-feet long service spillway. Normal pool elevation was 515 feet above msl (mean sea level).

Lewisville Dam:
To increase water storage capacity for a growing community, the Corps began construction of the Lewisville Dam in 1948. The cities of Dallas and Denton contributed funds for construction and own most of the water to this day. The new dam would impound the waters of the Elm Fork of the Trinity River, as Lake Dallas had, but also Stewart, Panther, Cottonwood, Doe Branch, LIttle Elm, Pecan and Hickory Creeks. At that time, the project was called the Garza-Little Elm Dam and the Galveston District of the Corps of Engineers was responsible for construction. (The Fort Worth District did not yet exist.) The lake was created by the completion of the dam in 1955 and later renamed Lewisville Lake. Lake Dallas's dam was later breached and the two lakes combined. The dam is 32,888 feet long (over six miles) and is constructed of compacted soil. A 560-foot uncontrolled spillway sits at the eastern end of the dam. Gates are located at the opening to conduits to allow controlled releases of water downstream.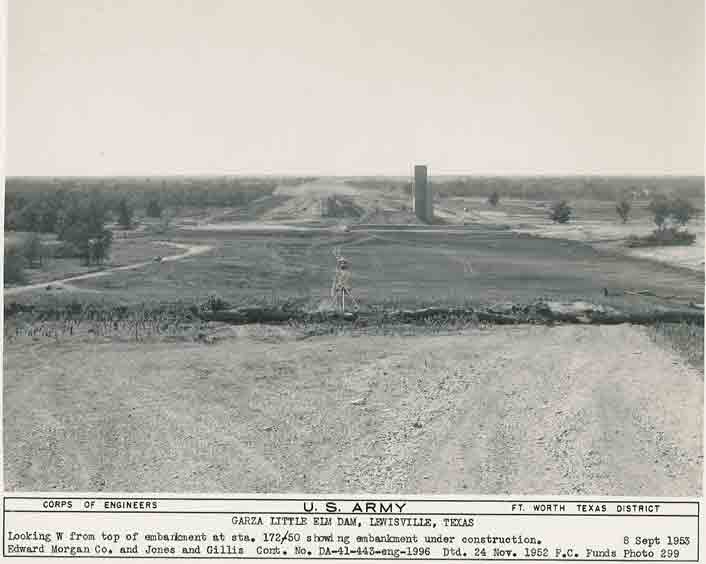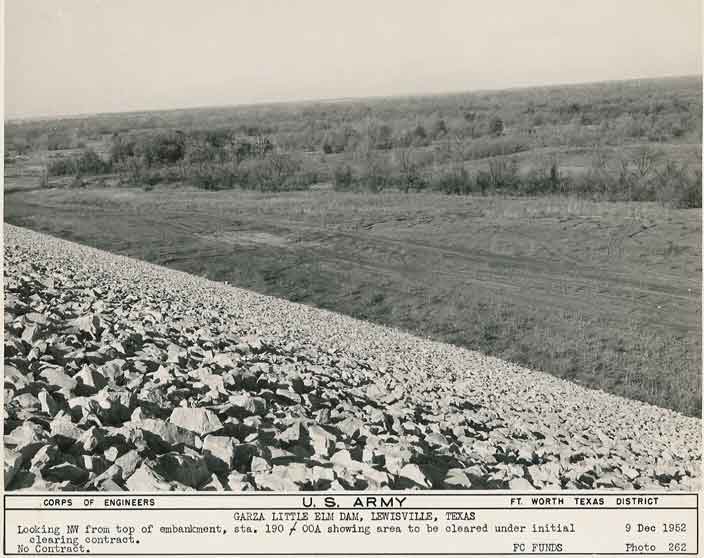 The lake today:
The 28,980-acre lake serves to fulfill a variety of local and regional needs. The primary purposes of the lake are flood control and water conservation. Associated purposes include fish and wildlife management and recreation. The operation of Lewisville Lake was modified in 1988 as part of the construction of Ray Roberts Lake, upstream of Lewisville Lake, resulting in a permanent increase of the conservation pool elevation from 515 feet msl to the current 522 feet msl.