Fort Worth District
Lakes and Recreation Menu
Welcome to Granger Lake
The U.S. Army Corps of Engineers, Fort Worth District welcomes you to Granger Lake, located between Taylor and Granger, Texas. Our mission: provide flood damage reduction to the local area, water supply, and offer some wonderful recreational opportunities.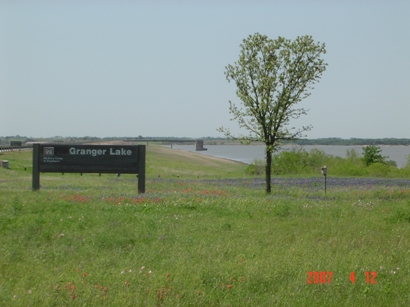 Lake Elevation / Gate Opening Information
Granger Lake
28 SEP 2023
Current Elevation
Normal Elevation
Currently Releasing
Current Wind Speed
Current Wind Direction
Max Wind Speed (Last 6 Hours)
500.67 ft
504.00 ft
8 cfs
-NR- mph
-NR- deg<! =" ">
-NR- mph
Reservoir Control Section
Contact Information
Granger Lake
Fort Worth District Map
U.S. Army Corps of Engineers
Granger Lake Office
3100 Granger Dam Rd
Granger, Texas 76530
Hours: M-F 8am - 4:30pm
Phone: (512) 859-2668
Fax: (512) 859-2934
Camping Reservations:
1-877-444-6777

Latest News and Updates
ATTENTION:
Granger Lake no longer accepts cash payments for any USACE operated campground or boat ramp. If you need assistance, please contact us at (512) 859-2668 or email m2swfodga@usace.army.mil. We appreciate your cooperation.
For information on Mobility Assistance Device use in Corps Parks, please read the Policy Here . For more information or to be issued a permit please contact the lake Manager.
Facility Closure Report
This report last updated on Wed Sep 27 2023 05:52:40 GMT+1000 (Papua New Guinea Time)
LAKE NAME
FACILITY NAME
STATUS
CLOSURE TYPE
CATEGORY
UPDATED DATE
COMMENTS
GRANGER LAKE
GRANGER LAKE
FRIENDSHIP
PARTIALLY CLOSED
SEASONAL
PARK
9/26/2023 8:32:37 AM
Effective Oct 1, 2023: Swim Beach CLOSED. Group Shelter CLOSED. Boat Ramp and Fishing is OPEN
GRANGER LAKE
OUTLET WORKS AREA/ STILLING BASIN
FULLY OPEN
NONE
ACCESS POINT
6/22/2021 4:22:10 PM
GRANGER LAKE
OVERLOOK
FULLY OPEN
NONE
ACCESS POINT
6/22/2021 4:22:22 PM
GRANGER LAKE
TAYLOR
PARTIALLY CLOSED
SEASONAL
PARK
9/26/2023 8:33:08 AM
Effective Oct 1, 2023: Hoxie Bridge CLOSED. Day Use Area CLOSED. Camping CLOSED. Boat Ramp, Fishing, and Hiking Trails OPEN.
GRANGER LAKE
WILLIS CREEK
PARTIALLY CLOSED
DROUGHT
PARK
9/7/2023 9:57:29 AM
Camping, Group Shelter, Fishing - OPEN Boat Ramp- CLOSED DUE TO LOW WATER LEVELS Equestrian Trails- OPEN
GRANGER LAKE
WILSON H FOX
FULLY OPEN
NONE
PARK
6/29/2023 12:44:35 PM
Day Use area OPEN. Swim Beach OPEN. Boat Ramp, Fishing OPEN. Camping OPEN.
GRANGER LAKE
WMA AREAS
FULLY OPEN
NONE
ACCESS POINT
6/22/2021 4:22:32 PM
For all Park facility closure information click here.
Interested in becoming a Volunteer Gate Attendant at our parks call (512) 859-2668.
Williamson County Burn Ban Information. MORE
For information on closure dates for the Equestrian Trail & Primitive Campgound due to Texas Parks and Wildlife Hunts click MORE
Like us on Facebook. Click for link.